REVIEW! BROKEN SOCIAL SCENE - WEBSTER HALL - 1/27/06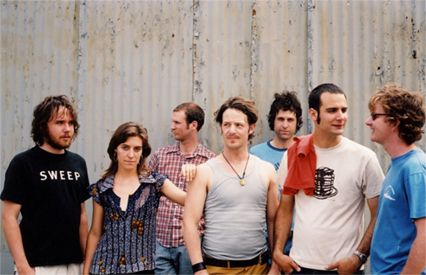 On Friday I checked out Broken Social Scene at Webster Hall. I just have to start by saying that if it wasn't for the incredible sound crew working at Webster Hall, this show wouldn't have been half as good as it was. They've put in hours and hours of back-breaking work to beef up the sound system there and I must say that the sound has improved exponentially over the past year. In addition, the care and effort the monitor techs give the acts is tremendous. If the monitors sound good, the band will play better, and we get a better performance....end of story.

I personally have never heard Broken Social Scene before this. For some reason the band's name puts me off. I always assumed they were some retarded kiddie punk band so I never bothered to give them a listen. Actually, I am sort of glad I am ignorant; seeing them live is probably a better first experience than listening to one of their records. The 13 or 15 person band played for nearly three hours and the whole show was a tapestry of different styles, sounds, and moods. Excellent stuff.