MESS WITH TEXAS PARTY - SxSW
A Review of Day Two From My Buddy Matt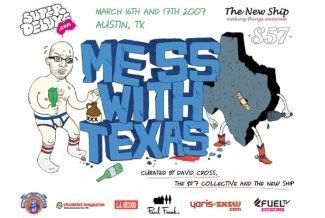 My buddy Matt was able to check out day two of the Mess With Texas Party. What you are about to read are his experiences in his own words. Although, I added in some hyperlinks to make your reading experience more jam-packed with info. Enjoy!

Not surprisingly, the party was a blast. Unfortunately, I missed the first day after arriving too late and waiting in line for an hour. Seems they did a really good job getting the word out. I've never had trouble getting into a SXSW day show before.

I'll do my best to remember what I can. The free scotch courtesy of Dewars made things a little hazy in retrospect. The club had two stages one in and one out. The stage inside alternated between a band and a block of comedy, while the outside stages featured bands only. There were some good bands that day, but my priority was comedy of course. Aziz did an awesome job filling in for Patton as host. The first block started with Rob Huebel and Paul Scheer doing a bit as SXSW safety coordinators stressing the importance of stretching, especially the oft-sprained taint. Some Human Giant clips may have also been thrown in here. Brian Posehn had a great set with some material that was new to me. After this everything kind of runs together. Leo Allen and Laura Krafft did an improv bit together. Michael Showalter appeared with ten types of people you see doing karaoke. Eugene Mirman did his thing. Scott Aukerman and BJ Porter acted out parts from their favorite romantic movies with ladies from the audience. David Cross had a strong set with some new stuff and no political material, considering protesters were marching a block away.

One of the highlights for me was Jon Benjamin and Jon Glaser performing as Soundtrackapella. The two proceeded to make some of the crowd squirm while discussing and complaining about the supposed time limit they had to perform. People were actually yelling at them to get on with it. Fucking brilliant. Once they got going, the squirming continued through their a capella renditions of the theme songs from Ghostbusters, Top Gun, and Footloose. Zach also went on towards the end of the party, and things were running late. I don't know if his time was cut short, or if he decided to finish early, but it ended rather abruptly like he was going into a joke and decided he was finished. The crowd was starting to get a little restless, and there was a lot of noise from people going to the stage outside. He still managed to do some good jokes, and took a shot at the crowd by announcing he would later be giving the "most disinterested hipster" award. Another great moment involved Aziz, Eugene, David and later Brian reading a script from a pilot called "Frangela." Neither Aziz nor Eugene would read part of the script, citing it as being extemely racist, at which point Brian came up to deliver the lines. I wish I could remember what it was. Too much scotch by this point. I think that about covers it comedy-wise. The Human Giant showcase that night was also great and featured Eugene and Jon Glaser while I was there plus a lot of clips from the show.