DOUG BENSON INTERRUPTION, NYC
Featuring DAVID CROSS , MIKE BIRBIGLIA, & MORE 10/23/06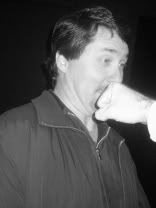 New York City's Upright Citizens Brigade Theater will host the Doug Benson Interruption on 10/23/06. Normally a staple of the UCB Theater LA, this show touts itself as a show where comedian Doug Benson (The Marijuana-logues, VH1's Best Week Ever) invites his fancy, big-name, professional stand-up pals to the stage, but then interrupts whenever he feels like it. He will be joined by the legendary David Cross , Mike Birbiglia, and more!

Tickets are a mere $5.00! MAKE RESERVATIONS HERE! NOW!

NOTE: DAVID CROSS HAS CANCELLED!!! However, Morgan Murphy and Aziz Ansari WILL appear in his stead.