JAPANTHER / HIGH PLACES
* PUPPET SHOW, MULTI MEDIA EVENT *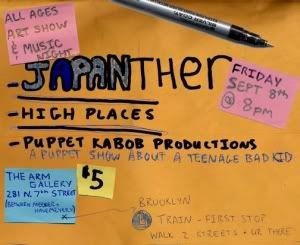 Williamsburg's Arm Gallery will host what appears to be a pretty heavy duty event on Friday 9/8/06 featuring art, puppets, and loud loud music. From their myspace blog:

This event will feature Japanther, a mixed media performance by Puppet Kabob with marrionettes, shadow puppets, live music, and projections, and a set by High Places. Entry is $5 or free if you bring a plate of home baked anything because we are hungry and the kitchen isn't finished yet... See flyer below for details. Hope you can make it!