PATTON OSWALT & EUGENE MIRMAN
CAROLINE'S NYC - 11/15/09 thru 11/19/06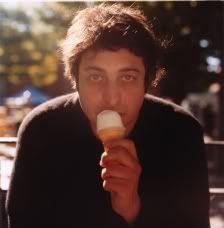 Normally, I wouldn't promote a comedy show at the cold and touristy Caroline's Comedy Club in New York City's Times Sqaure, but there's nothing I wouldn't do for Patton and Eugene. And though I am loathe to mention that the cost of the weekday shows are $24.50 with a two drink minium while the weekend shows are $28.50 with a two-drink minimum, I have to say that if you've got the money by all means spend it. I certainly don't, but what else is new.

I doubt these shows will be as packed with die-hard fans as the Comedians of Comedy shows. I also doubt the afterparty will be as exciting as the Comedians of Comedy Irving Plaza afterparty, if there even IS an afterparty. But the Caroline's shows might make a decent night out for you and someone you want to impress with your lack of spendthriftedness. I took a fine young lady to see Todd Barry at Caroline's once. It was funny AND romantic. Oh la la. As a matter of fact, the Todd Barry audience was made up entirely of tourists. When we were in the lobby waiting to get in all of these yokels were ooohhhing and ahhhhhhing the pictures of various comediens who had performed there. This one woman was looking at a picture of Greg Proops shouting at her husband "Oh! Honey! It's Mike Shoop from Who's Line!!!" I laughed so hard that to this day I consider her the greatest warm-up act of all time.