THE KILLERS / THE RED ROMANCE
WEBSTER HALL - 9/22/2006

photo by thisismecl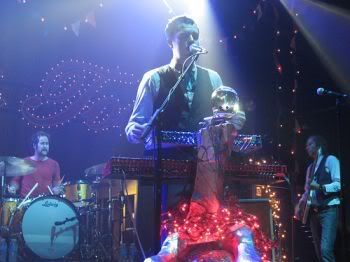 For a person really low on funds, it was probably pretty stupid of me to spend 36 bucks to see The Killers at Webster Hall friday, 9/22. I rationalized the expenditure by telling myself that, hell, these guys are about to embark on an arena tour; might as well catch what will probably be the last 1400 person gig they'll play in the next few years. At least I went in open-minded.

But the show was a hot, steaming pile of annoying fans and generic, unthrilling pop. I haven't done the research, but I wonder how many other people are as annoyed as I am at how badly the singer blatanly copies Freddy Mercury. Emulation is one thing; rip-offs are another. Something tells me I'd be hard-pressed to find any evidence of the singer giving any credit to Mercury for the stage presence he'll be relying on for this upcoming tour.

I will say that the band DOES have chops though. The tunes themselves were hardly as impressive as the skills wielded by the musicians. Earl Hickey, it turns out, is a fucking incredible drummer. Further, the guitar player had an incredible style that was a total throwback to the old days of anthemic guitar rock. The bass didn't stand out so much, but at least he was cool lookin'.

The show was a clam and it alarms me that this band is about to embark on a large venue tour. Also, there were simply too many dudes with Growin-Up-Gotti-styled hair high-fiving each other between songs and too many girls complaining I'm too tall. I'm not kidding; girls were literally asking their boyfriends to ask me to move because I was too tall. I even heard one guy say "Geez, I don't know honey.... he doesn't seem like the type." This would literally happen no matter where I happened to be standing. Literally. I felt like the Webster Hall pariah. Don't worry people; I am having femur reduction surgery this week.

It was a terrible time all around and I am kicking myself for actually paying for it. I didn't even bother to take pics or grab a set-list. The final CBGB hardcore matinee can't get here quick enough.

More decent pics at flickr.