UPCOMING! COMEDIANS OF COMEDY
WARSAW 9/14 & IRVING PLAZA 9/15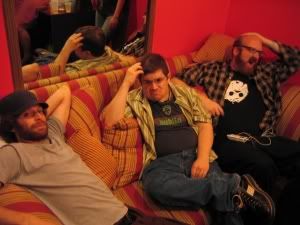 The last time the Comedians of Comedy came to town, they showed my friends and I the time of our lives. Patton Oswalt, Brian Posehn, Zack Galifianakis, and Maria Bamford, with the help of the Fugeddabuddies, not only gave us some of the best comedy ever, but we got to hang out back stage with people like Yo La Tengo, Horatio Sanz, Brian, Jon Glaser, Bobby Tisdale and that dude from Chunklet, and so many other comedic idols. It was truly one of the greatest nights of my life. Now, according to their myspace page they are embarking on another tour, this time with Eugene Mirman. Their Warsaw gig is already on Ticketmaster, but their Irving show has yet to show up. Ticket master doesn't list Maria or Zack, but I pray to God they're there. Also, there will be a ton of surprise guests. I will be at both shows for sure.