CAPSULE REVIEWS! PELICAN, BRIAN JONESTOWN MASSACRE, MOGWAI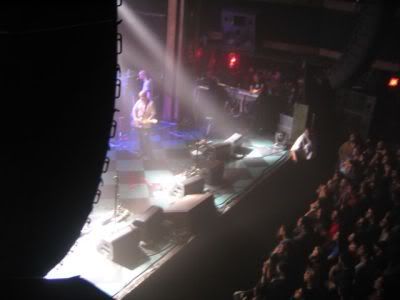 PELICAN - AVALON NYC - 5/9/06 I missed the first two bands and showed up in time for Mono and then Pelican. Mono was a disappointment. Completely unoriginal and boring. A total snooze-fest. I wish bands would take their influences and at least tweak the sound into some form of origniality as opposed to outright forgery. Pelican, however, totally blew my mind. I can only describe their set as anthemic and triumphant. They were so good that I actually bought a t-shirt. I literally haven't purchased a shirt at a show in about 6 years. And I stood next to the drummer from Mastodon the whole time. Having seen them at Bowery, I can tell you that that mofo can play.

BRIAN JONESTOWN MASSACRE - WEBSTER HALL - 5/10/06 I've seen BJM several times and we all know how Anton can be and we've all seen Dig! and we all have certain expectations when we go to a BJM show and blah blah blah.... HOWEVER, this show at Webster Hall completely defied all expectations and was actually a 3+ hour jam session completely devoid of outbursts, belligerance, and time wasting banter. The set started slowly with a 6' 7" rapping Jew, but once they started playing it was pure rock. I was able to hang out in the mixing booth on the stage for a while and at about 11:30pm, Anton came over and asked the sound guy (and me) if they could keep playing. The sound guy said the stage was his until 1:00pm, and play until 1:00pm they did. What really made this show great was that Anton was completely in a bubble, ignorant to the occasional taunts of the audience. The band was relating to each other very organically and it felt as if we were watching a band practice. Fantastic.

MOGWAI - WEBSTER HALL - 5/12/06 My fourth show in 4 days. A fourth night of drinking, staying out too late, and waking up feeling like death. Anyhow, this show was just incredible. First off, SEE THIS BAND. They opened for Mogwai and I don't know what else to say. Like a thunderstorm. I don't know... In retrospect, Mogwai was probably the highlight of my week. They were just so goddamned awesome. There is such a dark vibe behind their beautiful sounds. And I snagged a guitar pick, a set list, and got to meet the band.