REVIEW! DAVID GILMOUR - RADIO CITY MUSIC HALL - 4/5/06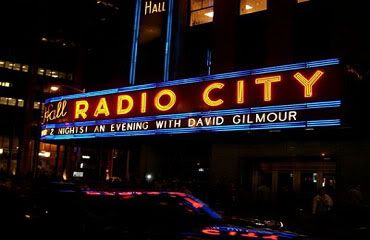 On Wednesday evening I had the good fortune to see David Gilmour at Radio City Music Hall. I was in Row RR in section 4, dead center. I am still reeling from the experience and am having a hard time just organizing my thoughts on the experience, so in lieu of a blow-by-blow review of the show, here are some highlights.

Richard Wright was on keyboards, which I wasn't expecting. I haven't read reviews of other Gilmour shows as I didn't want to spoil this show with preconceived expectations, so Wright's inclusion in the band was a wonderful surprise.


Dick Parry was on sax. Yes, the man that made Us and Them the truly incredible song that it is was there in the flesh.


David Gilmour wailed on the sax as well. Didn't see THAT coming.


David Crosby and Graham Nash came out for a few songs.


During the second set, David's choice of Floyd songs was incredible. He avoided many of they usual tunes such as Money and opted for some very surprising choices such as Wots...Uh The Deal from Obscured By Clouds, Wearing the Inside Out from The Division Bell, and Coming Back to Life from The Division Bell.


THEY PLAYED ECHOES!



The show was just incredible. Awesome song choices, awesome rhythm section, amazing lighting, lazers, and fog and it couldn't have happened at a better venue.